Welcome to Yoga Vidya.   Vidya is a Sanskrit word that means wisdom. The common expectation is that yoga will exercise the body, make it stretch, maybe even bend over backwards. But yoga can also exercise the brain and stretch the mind. It is a visceral learning experience. That keeps the brain flexible.  Just think how much equanimity you might find in daily life if looking at the world from upside down is logical.
The goals of Yoga Vidya are to offer friendly, approachable  knowledge about yoga and to inspire students to acquire or deepen a yoga practice to access the benefits while understanding the intrinsic principles of yoga.  Students are free to experience in their own time the intelligence of their bodies and receive challenge to attain their maximum potential.
Brand new beginners are welcome as well as experienced students, local Santa Feans and visitors to the Land of Enchantment. Classes at Yoga Vidya are small to allow individual attention to each student. Classes are capped at 15 students. Instruction is tailored to those who are in the class that day.
All the teachers at Yoga Vidya are certified in the Iyengar Yoga method. The Yoga Vidya studio is the best equipped studio in Santa Fe with standard Iyengar props: mats, blankets, blocks, belts, chairs, ropes, trestles, wooden benches and a few extras. All you need to bring is bare feet, an empty stomach, and a desire to experience yoga.  Big plus in the cooler months is the radiant floor to take the chill off and provide a restful savasana at the end of class. Natural lighting from windows on three sides of the studio and skylights add to a refreshing yoga experience.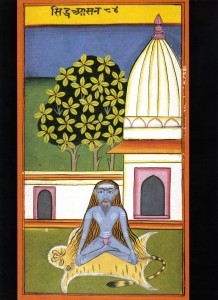 Therapeutic variations can be given for specific needs. Please call or email ahead of time if you have limitations that need to be addressed and it is your first class at Yoga Vidya. Sometimes private sessions are the best segway into group classes for severe limitations.
Website information is kept up to date as changes occur.  Cancelled class notifications are posted at least 24 hours prior to that date at the bottom of the Home page under What's New? and on the Class Schedule page.
What's New
New 6 week series on the topic of Yoga and Scoliosis begins Thursday, January 18 at 5:30-7pm. Make a reservation hold a place during these specialty classes limited to maximum of 6 students and minimum of 2 students. Drop-ins allowed only if space permitting. 
Bobbie Fultz was certificated in September, 2917 as a yoga therapist by the International Association of Yoga Therapists. She will be including C-IAYT to indicate that as well as CIYT (Certified Iyengar Yoga Teacher) after her name.
Door to the studio opened 15 minutes before class time.
Class payment is cash or check. Sorry, no credit cards.