Welcome to Yoga Vidya.   Vidya is a Sanskrit word that means wisdom. The common expectation is that yoga will exercise the body, make it stretch, maybe even bend over backwards. But yoga can also exercise the brain and stretch the mind. It is a visceral learning experience. That keeps the brain flexible.  Just think how much equanimity you might find in daily life if looking at the world from upside down is logical. And of course during the change of seasons, we all want to keep the immune system in high strength mode.  That is yoga wisdom also.
Yoga is not one size fits all, or a no pain no gain workout. The practice of yoga is intended to aid the body/mind/sensory complex to find and stabilize it's own healthy design. Yoga is not a competitive sport or an aesthetic form regimen like dance. The purpose of a yoga practice is to enhance each individual's life experience.  Anybody can begin or continue to practice at any age or stage of health, but practicality and compassion for the needs of the body should be considered.
Brand new beginners are welcome as well as experienced students, local Santa Feans and visitors to the Land of Enchantment. Classes at Yoga Vidya are small to allow individual attention to each student, usually no more than 6. Instruction is tailored to those who are in the class that day. Therapeutic variations can be given for specific needs. Please call or email ahead of time if you have limitations that need to be addressed and it is your first class at Yoga Vidya. Sometimes private sessions are the best segway into group classes for severe limitations.
The Yoga Vidya studio is the best equipped Iyengar studio in Santa Fe with standard Iyengar props: mats, blankets, blocks, belts, chairs, ropes, a trestle, wooden benches and a few extras. All you need to bring is bare feet, an empty stomach, and a desire to experience yoga.  Big plus in the cooler months is the radiant floor to take the chill off and provide a restful savasana at the end of class. Natural lighting from windows on three sides of the studio and skylights add to a refreshing yoga experience. On warm days, the windows can be opened for natural air from the out of doors.
Bobbie Fultz is a world class teacher well versed in therapeutic adaptations and use of props but also has an in depth knowledge of what the body needs to do to meet the demands and challenges of advanced asanas. She is skilled in bringing each individual to a new understanding of their capabilities.
Yoga Vidya is dedicated to the dynamic teaching style of B.K.S. Iyengar, recognized as the most influential yoga master in the modern world.  Mr. Iyengar developed an innovative approach to classical hatha yoga that introduces the poses with intermediary stages that make it easier for the body, mind, and senses to integrate and understand.  This teaching style delivers attention to individual needs of the student with detailed instruction and clarity in presentation.  The essence of the Iyengar postures is communicated through simple, but meaningful explanations, demonstrations, and corrections.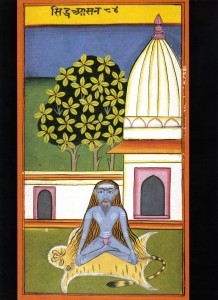 The goals of Yoga Vidya are to offer friendly, approachable  knowledge about yoga and to inspire students to acquire or deepen a yoga practice to access the benefits while understanding the intrinsic principles of yoga.  Students are free to experience in their own time the intelligence of their bodies and receive challenge to attain their maximum potential.
Website information is kept up to date as changes occur.  Cancelled class notifications are posted at least 24 hours prior to that date at the bottom of the Home page under What's New? and on the Class Schedule page.
What's New
Door to the studio opened 15 minutes before class time. Class payment is cash or check. Sorry, no credit cards.